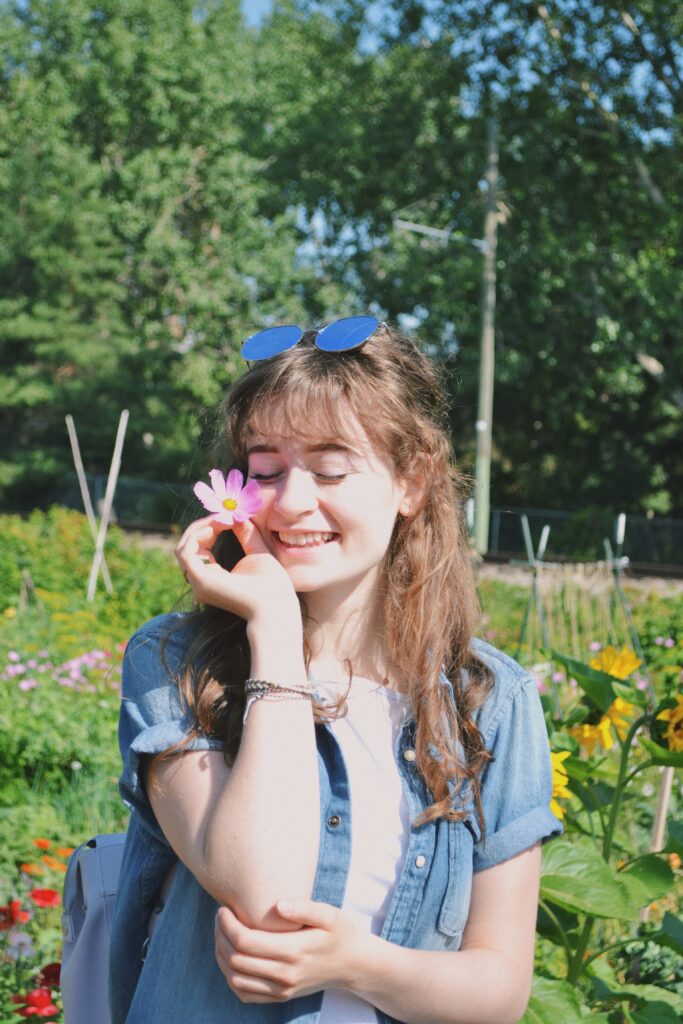 hanna dotzenroth – artist and creator
I am a visual and conceptual artist currently living and practicing in Amiskwaciwâskahikan, aka. Edmonton, Alberta. Working in painting, printmaking, photography and video, my recent work focuses on exploring human and plant relationships at the site of the vegetable garden. With so much anxiety for the future of our planet, my work speaks to my own desire to reconnect with the larger ecological community in order to learn how to build futures that are more liveable. At the site of the vegetable garden, we spend time growing fruit whose bodies will feed back into our own. By slowing down and nurturing these relationships, we can remember just how deeply we are rooted into these ecologies. There is an inherent reciprocity here that must not be forgotten, as we rely on these plants more than we know.
Over the past two years, it has been the predictable cycles of the garden that have kept me grounded through countless personal and social changes. In this way, my gardening practice has integrated itself into my artistic practice, becoming a fundamental part of how I make and understand my own artwork and the world. There is much to be learned by simply sitting in the dirt of our garden boxes, observing the ways in which these plants grow and thrive alongside one another. Using the natural materials from the garden to represent these ecological relationships, I am searching for ways to reconnect and sympathize with the plants that surround and support us every day.
Education
2018-2022 BFA in Art and Design, University of Alberta
September-October 2023 Artist showcase, Block 1912, Edmonton, AB
June 2023 Sitting in the Dirt, Revelstoke Visual Arts Center, Revelstoke, BC
Group Exhibitions
December 2022 Solstice Communities Gallery Show, CO*LAB, Edmonton, Alberta
November 2022 The November Show, dhArt World, Edmonton, Alberta
November 2022 Members show and sale, SNAP, Edmonton, Alberta
August 2022 Intimus, Nina Haggerty Centre for the Arts, Edmonton, Alberta
May 2022 Nascency, dc3 Art Projects, Edmonton, Alberta
June 2022 Connections, University of Alberta, online exhibition
April 2022 remember to turn the lights off on your way out, FAB Gallery, Edmonton, Alberta
April 2022 Present Tense, SNAP gallery, Edmonton, Alberta
January 2022 Room 22, dc3 Art Projects, Edmonton, Alberta
July 2021 Sidewalk Cinema Student Showcase, Art Gallery of Alberta, Edmonton, Alberta
June 2021 NextFest Visual Art Exhibition, The Next Act Pub, Edmonton, Alberta
April 2019 As If Matter Matters, Rutherford Library, Edmonton, Alberta
2022 Community Arts Coordinator, Society of Northern Alberta Print Artists | Edmonton, AB
2022 RBC emerging artist program, Nina Haggerty Centre for the Arts | Edmonton, AB
2021-2022 Grad Chair, Visual Arts Student Association, University of Alberta | Edmonton, AB
2021 Natalka Horeczko Scholarship in Painting and Print-Design
2021 Kathleen and Russell Lane Canadian Art Award
2020 Justine Angelina Carswell Memorial Award in Fine Arts
2019 The Anna Bychinsky Fine Arts Award in Art and Design
2018 Faculty of Arts Academic Excellence Scholarship
2018 The Macey Vankosky Scholarship in Fine Arts
September 2021-2023 Strathearn Art Walk, Edmonton, Alberta
July 2021-2023 Whyte Avenue Art Walk, Edmonton, Alberta
July 2017-2023 Leduc Art Walk, Leduc, Alberta
December 2020 BUILT online, Edmonton, Alberta
2023 Every Garden is a Community Garden, in Hungry Zine, Issue 05
2019 Self Reflection in The Gateway Magazine, December 2019 Issue